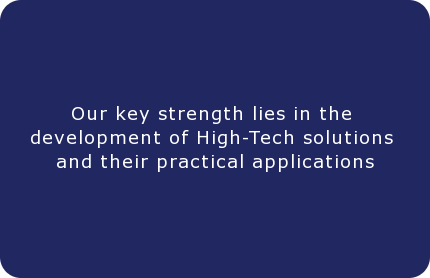 Complex Research & Development Projects can only be realised by highly qualified and motivated professionals
Hengen is the ideal partner for developing optimal solutions for complex tasks.
Hengen Engineering was founded in 1981 in the technological region of Karlsruhe in southern Germany with this aim. The focus was primarily on developing embedded solutions, process control systems, microcomputing and automated guided vehicle systems.
As a family undertaking in its second generation we develop efficient solutions in the areas of Software, Hardware, Digital Signal Processing, Machine Learning, Image Processing (2D/3D), Instrumentation & Control as well as Automation.

Since 2010 we are equipped to provide electronic manufacturing services to our customers.

We offer EMI testing services to specifically adress EMI problems on customers' pcbs.

In combination with our manufacturing unit it is possible to render a very fast electronic development service for complicated high density high speed and mixed signal pcbs.

The current technical lead and associate is Dr. Heiko Hengen who has been actively heading industrial R&D projects and has been a consultant in the fields of electrical engineering and information technology for more than twenty years. Dr. Hengen authored around 40 scientific publications in the field of image and signal processing as well as classification and iterative learning control systems. He taught Medical Image Processing and Object Oriented Software Design at Technical University (TU) Kaiserslautern as adjunct faculty member for more than ten years. Our close cooperation with german universities and research institutes helps us incorporate recent technological and research advancements in the development of solutions.
Professionalism is our advantage
Our professionals use modern technologies and tools to support the development process in an efficient manner. Our professionalism and expertise are valued by our customers.
Our key strength lies in the development of high-tech solutions and their practical applications. We focus primarily on
Applying and maintaining our extensive knowledge base
Efficient communication and customer relations
Service and flexibility
Consulting and technical troubleshooting
Our services include
Software development
Hardware development
Mathematical modelling
Engineering
Consulting
R & D
Customized development of products and new technologies
In the fields of
Digital Signal Processing
2D and 3D Image Processing
Instrumentation and Control
Automation
Information technology and Enterprise Resource Planning